No videos or pictures in your ILQW email? See them at http://ilovequoddywild.blogspot.com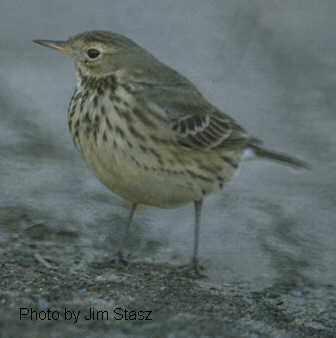 ATLANTIC PUFFINS, BLACK GUILLEMOTS, and COMMON TERNS continue to be seen in reduced numbers at Machias Seal Island, Seal Island and Matinicus Rock.
Birds in Frenchman's Bay on August 16 included 21 GREATER SHEARWATERS, one SOOTY SHEARWATER, and eight RED PHALAROPES.
Up to six GREAT EGRETS are being seen in the Bass Harbor Marsh on Mount Desert Island.
A single WHITE-WINGED CROSSBILL and a CAPE MAY WARBLER were seen on August 17 at Schoodic Head.
Birds on the shores of Little Bay in Machiasport included a PIPING PLOVER on August 16 and an AMERICAN PIPIT on August 18.
From: http://www.mainebirding.net/rba/2009-08-21

Photo Credit American pipit: USGS